Where to find French archives: an overview of French administrative divisions
In France, archives are organized based on administrative divisions. This is why it is important to understand French administrative divisions when you want to research a French register. It is indeed important to understand where the document was created, but also where it is now kept.
Here is an overview of French administrative divisions.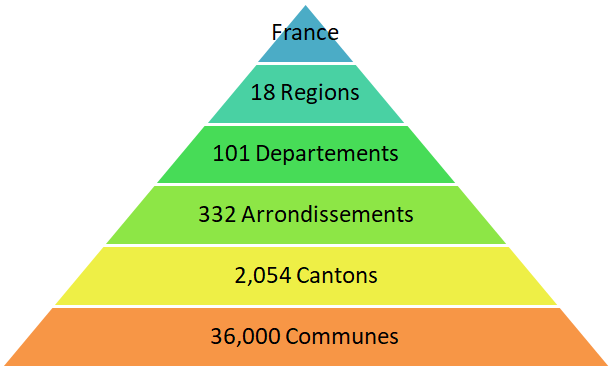 Regions
The region is the largest administrative division of France. Nowadays there are 18 regions (13 metropolitan regions and 5 overseas). But this changed recently (in 2015), so you might sometimes find information corresponding to the older division into 27 regions.
However, regions do not play a big part in how archives were created or kept, as they are quite recent (they were first created in 1956).
Departements
Each regions is then subdivided into departements. There are 101 departements in France. This division is the most important to know because this is where most archives are kept.
Indeed, each departement has its own archives: departemental archives (archives départementales). Most of the registers that are useful for genealogy and family history are kept in departemental archives, even if they weren't created on a departement scale.
To sum up, every record that was created by a subdivision of a departement has now been centralized in the departemental archives.
For example: civil registration and census records which were created for each commune, are now kept by departemental archives. The same is true for judiciary records which were created in each arrondissement or canton.
To know more about the French census records, read this post on How to use French census records.
Arrondissements & Cantons
Each departement is subdivided into arrondissements (there are around 3 arrondissements per departement). And each arrondissement is then subdivided into cantons.
Knowing the canton or arrondissement of a commune will not be necessary for basic records (civil registration or census records). But it can be useful when you want to dig deeper into your family history: to find military records from the 19th century, estate records, judiciary records, …
Communes
The smallest French administrative division is the commune. It corresponds to a city which can be as big a Paris or as small as a village of less than 100 inhabitants.
There are more than 36,000 communes in France. Each commune has a mayor and is in charge of civil registration. This means that each commune in France had its own registers for births, marriages and deaths.
To know more about the French civil registration, read this post on the difference between civil registration and parish records.
Census records and land records were also held for each commune.
Note: the most important cities of France, such as Paris, Lyon and Marseille, are subdivided into smaller divisions: the municipal arrondissements. For example, there are 20 municipal arrondissements in Paris. And each municipal arrondissement has its own civil registers.
An example
For example, let's see what you will need to know if you have an ancestor who was born in the small village of Rochefourchat.
If you use Wikipedia, you will find the following information on the commune of Rochefourchat: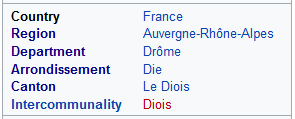 To begin your research, the most important information you will need to know is that this commune is located in the departement of Drôme. You will have to head to the website for the departemental archives of Drôme and select the type of document that you want to look at.
For civil registration, census records or land records, you will then have to look for the name of the commune to access the records.
And if you want to find estate records or judiciary records, it will be useful to know the canton and arrondissement in which Rochefourchat was located.
Elise