Finding your ancestors in Paris
Paris is often considered as a "black hole" for French Genealogy: most people fear that if they find ancestors who were born in Paris, they will be stuck and unable to go further back in time.
This idea comes from the fact that many records burned in a fire in 1871. For this reason, it can be quite challenging to research Parisian ancestors. Most of the time, it will require hard work. But it will rarely be completely impossible: there are multiple resources where you can discover traces of your Parisian ancestors. And the good part is that more and more of these resources are available online.
The fire of 1871
After France's defeat in the Franco-Prussian War of 1870-71, popular riots broke out in Paris. And the government of Paris was taken over by a popular-led government called the Paris Commune. As a consequence, the official government gathered troops to repress the Commune and win back the leadership.
During the Bloody Week, in May 1871, fights escalated: members of the Paris Commune built barricades in the streets and decided to set some official buildings on fire.
Among these buildings were the two buildings which held copies of all civil records prior to 1860: the town hall (Hôtel de Ville) and the law court (Palais de Justice). None of these records could be saved. Many other records were also destroyed while other buildings were burnt down (police records, financial records …). However, civil records from 1860 to 1871, which were kept by district town halls, were untouched by the fire.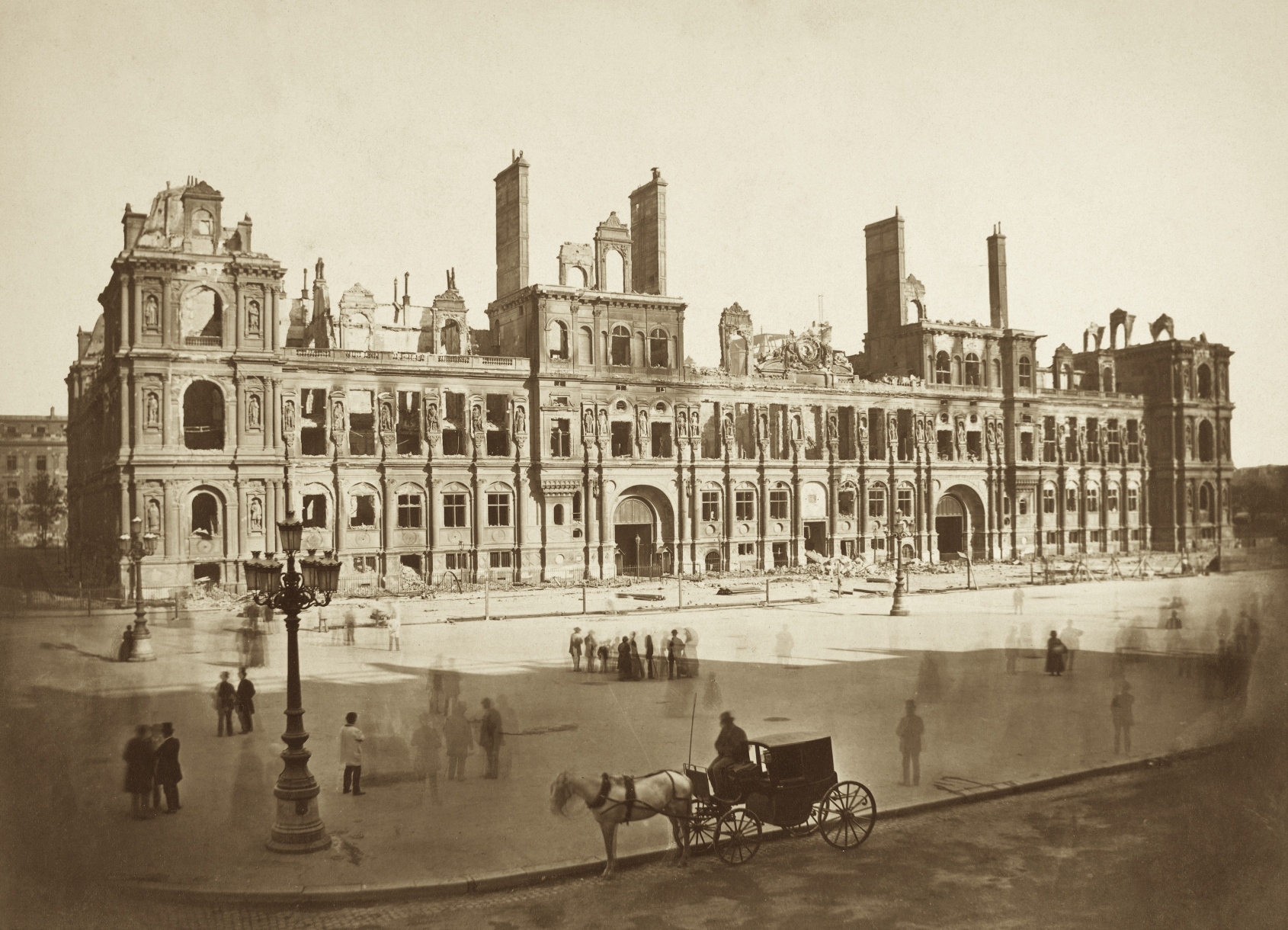 This explains why, when you want to research Parisian ancestors, you will not find the same resources before and after 1860.
Finding your parisian ancestors before 1860
After the events of 1871, efforts have been made to reconstitute Parisian civil records, thanks to family papers, notary records and parish records. But only a third of all the civil records that burned could be recreated.
The records which were reconstituted were mostly from the 19th century, and concerning families which still had descendants in Paris.
All these reconstituted records have been sorted by date and by surname. They have later been microfilmed. They are now accessible both onsite in the Archives of Paris and online on FamilySearch (under the title "Reconstitution chronologique des actes". Note that there are different files for the different types of records).
However researching a record directly in these files can be quite long and almost impossible if you are not sure of its date and/or if you are not sure that it actually was reconstituted.
Fortunately, an index of these files has been made. This index is made of thousands of cards sorted by alphabetical order and by date. These cards were digitized and are accessible on the website for the Archives of Paris.
For example, if you are looking for Eulalie Roustan born in 1788 in Paris, the following steps will be necessary.
1. Thanks to index cards, you will find that her birth record was reconstituted and that her exact date of birth was May 4th, 1788.
2. You can then look for digitized reconstituted birth records for 1788 on FamilySearch and browse them until you find the correct date, and then the correct surname.
This record was reconstituted thanks to parish records from Saint Eustache church. Thanks to this record, we can discover the name of Eulalie's parents and we will be able to continue our research.
Finding your parisian ancestors after 1860
All records after 1860 were preserved and later digitized, so you should not have any trouble finding them online. Here is an overview of the records that you can find online on the website for the Archives of Paris:
Birth records from 1860 to 1924;
Marriage records from 1860 to 1945;
Death records from 1860 to 1986.
The only difficulty is to know where to look – in other words, in which arrondissement the event was recorded. Paris is indeed divided in 20 arrondissements which each had their own registers.
If you do not know the arrondissement or the exact date of the record, you will have to use alphabetical tables. There is a table for each arrondissement and each type of record for 10-year periods (tables décennales). You can find them through this link.
Note: between 1933 and 1954, only annual tables exist. You can find them through this link.
Once you have found the exact date and arrondissement of the record, you can use this direct link to the Archives of Paris to look for the records.
For example, if you are looking for the death record for Françoise Lenoble who died around 1917 in Paris, you will go through the following steps.
1. Look through the alphabetical tables from 1913 to 1922 for each arrondissement, until you find her in the 18th arrondissement. This will give you her exact date of death: June 2nd, 1917.
2. Find her death record in the registers for the 18th arrondissement in 1917.
Some useful databases to find parisian records
To help you with your research in Paris, both before and after 1860, the following databases can also be useful:
On Familles Parisiennes, you will find lists of records (mostly notary records) sorted by surname, with links to the pictures of the records.
On Geneanet, you will find various indexed records from Paris, photographed by volunteers (most of them are the same as the records you can find on the previous website) and also a lot of online trees uploaded by users where you might find clues.
On Filae, you will have access to indexed civil records between 1860 and 1900 (and even later for death records) and also some indexes of reconstituted records and marriage records from before 1860.