How to use French census records
French census records ("recensements" in French) are a great resource if you want to know more about the living conditions of your French ancestors: how many children they had, what other family members they lived with, where their house was located… And also about their occupations and employers.
When were census records made
The first population censuses in France were conducted in 1791. However, it is rare to find census records from that period. For most towns, census records start in 1826 or 1831.
Censuses were held every 5 years, except at times of war:
the 1871 census was held in 1872 due to the Franco-Prussian war;
the 1916 and 1941 censuses were cancelled due to the First and Second World War.
The type of information that can be found in the census records has evolved through time but some information can always be found for each individual:
name and first name (women are sometimes listed under their maiden name, and sometimes under their married name);
occupation;
relationship to the head of household (wife, child, …);
marital status (single, married or widowed);
age or year of birth;
address (since 1851).
Some census records also give: the nationality, the place of birth, the type of employment (boss, employee, …) and the name of the employer.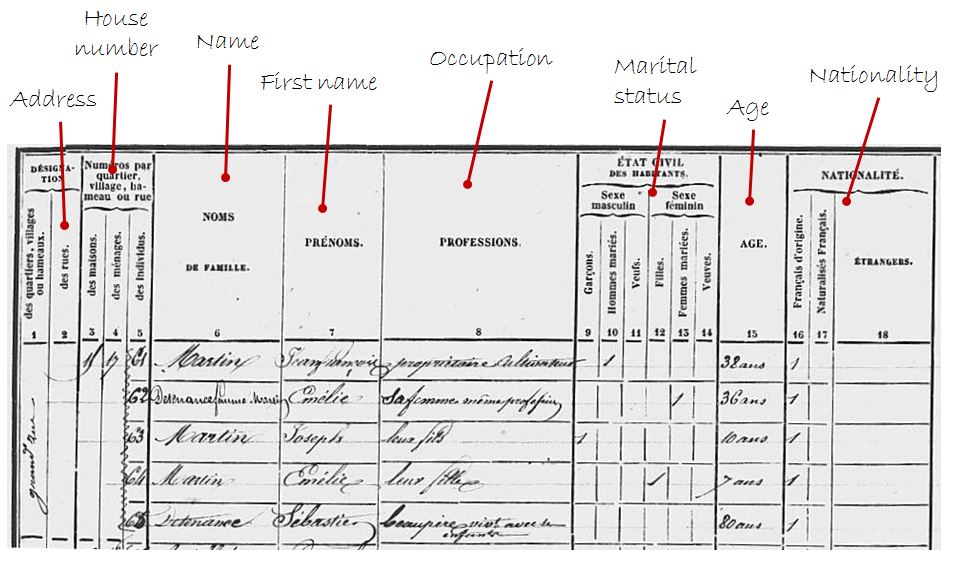 Finding census records online
Census records can be found in the Archives Départementales of each departement. Most of these records have been digitized and they can be found online on the Archives Départementales websites.
And thanks to a change of law in december of 2018, census records of many French departements are now available online until 1936.
Tip: You can find the Archives Départementales websites by googling "archives départementales" + the name of the département where your ancestors lived.
Census records can be found under differents names: "recensements", "recensements de la population" or sometimes "dénombrements de la population" or "listes nominatives du recensement".
Unfortunately, census records have rarely been indexed. So, you will have to read all the pages in order to find your ancestors.
For small villages, this is not really a problem. But for big cities, it's better to know the street where your ancestors lived before searching in the census records. This is an information that can often be found on birth, marriage or death records.
Some census records have also been indexed on Filae:
the 1872 census records;
some census records from 1901 to 1911.
An example
Here is an example of what I could learn about one of my ancestors' family, thanks to the 1921 census records.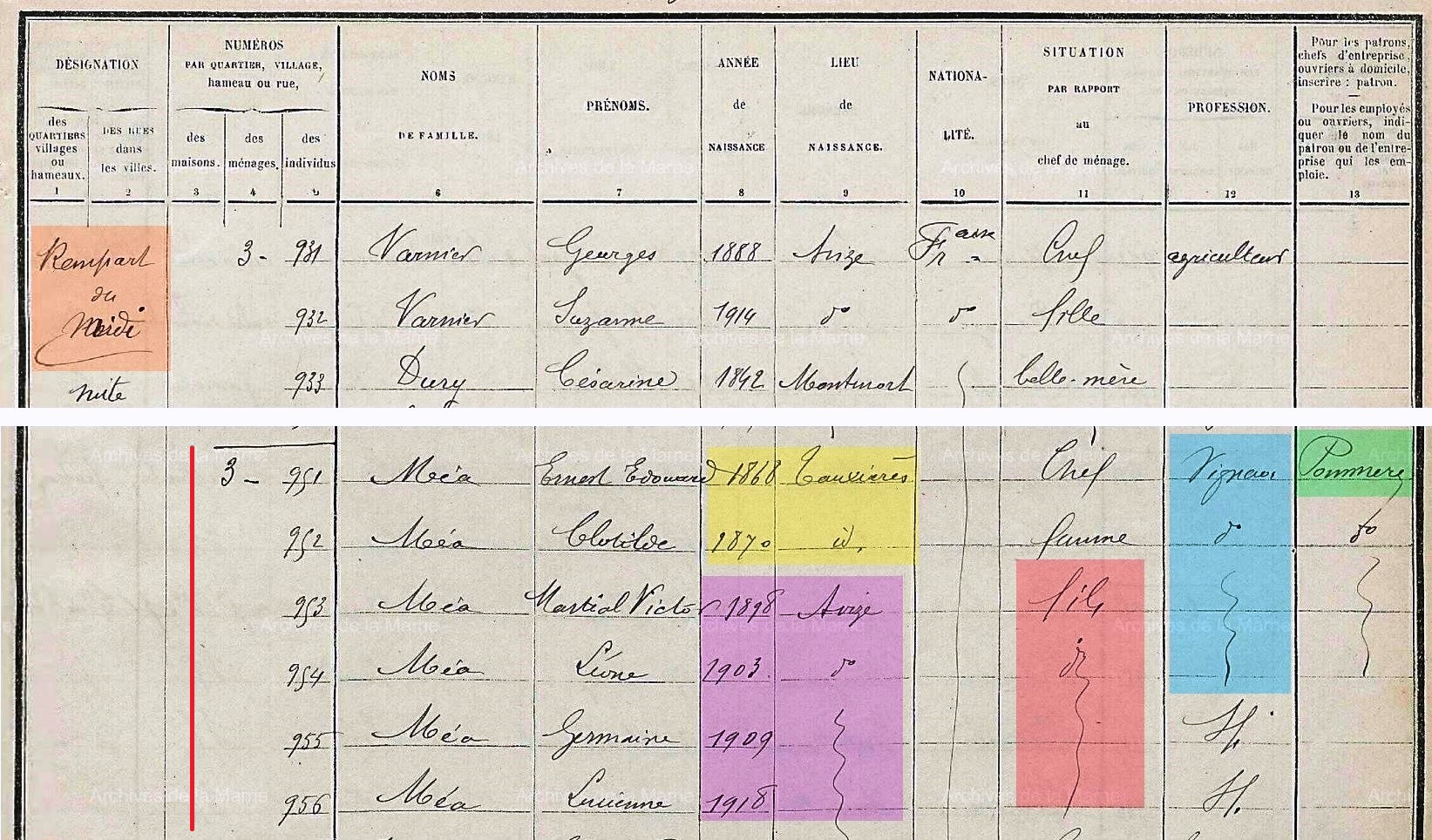 In 1921, the Méa family lived on the "Rempart du Midi" *** street in Avize (Marne). The family was composed of: Ernest Edouard MEA, his wife Clotilde and their 4 children ***.
Note: instead of repeating the same word on following lines, the census taker often wrote the abbreviation d° (for ditto) or a sort of wavy line. Here, the first child is marked as fils, and the line is used to indicate that the following persons are also the children of the head of household.
Both the husband and the wife were born in Tauxières (Marne) in 1868 and 1870 ***. And their four children were born in Avize, between 1898 and 1918 ***.
We also learn that all of them worked as wine-growers (vigneron) ***, except for the two youngest daughters who were too young to be employed. The name of their employer is indicated in the last column: it was the famous Champagne house Pommery ***.
Note: for people who didn't have an occupation, the box will either be empty, or filled with sp or sans, meaning sans profession ("without occupation").
Elise